Putting you first
Our customers' expectations for what we deliver are greater than ever before. Customers want more than just safe, reliable and affordable electricity – they expect us to empower their energy choices, and deliver services important to their communities and the environment.
For the first time, we're publishing a set of commitments to further demonstrate that our customers are at the centre of everything we do. Recently approved by the Australian Energy Regulator, our five-year investment plans reflect these expectations.
Through consultation with our Customer Advisory Panel and our customers, we have developed measurable commitments that align with these plans. Our commitments are closely linked to our vision and cover themes of affordability, reliability, safety, empowering choices and the environment.
Highlights include supporting more customers to export excess solar back into the grid, keeping our prices the lowest in Victoria, ensuring campaigns and communications are accessible to culturally and linguistically diverse communities, and retaining and developing our in-house regional-based Australian 24/7 contact centre.
We have tailored our commitments to reflect our customers' different needs, and will monitor and adapt these as expectations change over time. Importantly, we will be publicly reporting on the progress of each commitment over the next five years.
Where we are performing well, these measures will hold us to account to make sure we sustain that level of performance for our customers. Where we can do better, these measures will ensure we continue to question and challenge everything we do, and improve further.
These commitments are what will drive our business to stand out from the pack as a customer centric organisation, and give customers the confidence that we deliver on the promises we make.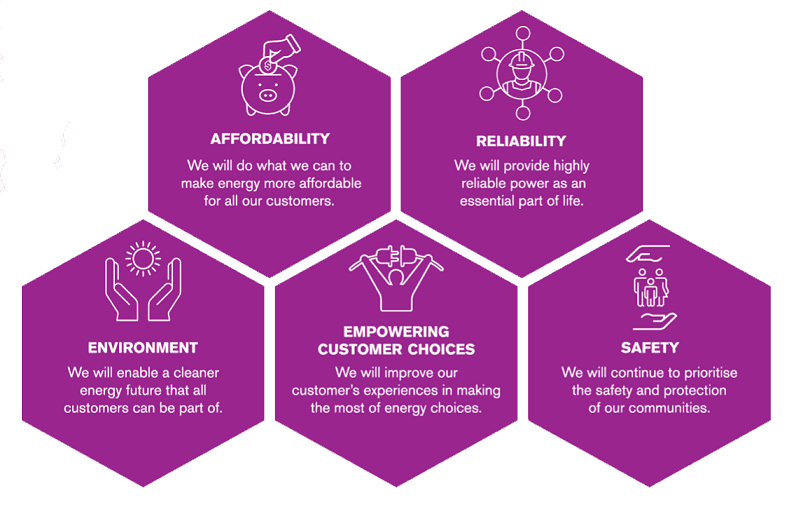 Our commitments
We will have the lowest rural and urban residential distribution tariff costs in Victoria, and remain in the top 5 most affordable electricity networks in Australia.
We will assist customers in identifying savings by empowering them to better use their energy consumption data, including delivering energy literacy and bill support programs to 1,000 of our vulnerable customers per annum.
We will continue to measure and benchmark ourselves against competitors and publicly demonstrate initiatives that reduce charges over time.

What this means for you:

You will have the lowest supply charges of any comparable Network in Australia. These charges include the distribution costs to operating, maintaining and managing the network of poles, wires and smart meters that deliver electricity to you.
You will have resources available to you view how your home has been using electricity over time, manage your power costs and take control of your energy bill.You will have access to value for money, market tested services that we will continue to invest in improving.

We will sustain more than 99.95% supply availability.
We will reduce our annual planned outages by 1.1 million customer minutes across the United Energy network relative to our historical annual performance over 2015-2020.

What this means for you:

You will live in one of the highest performing electricity networks in Australia, experiencing high levels of supply availability with minimal off-time.
Through investment in our processes and procedures, you will experience shorter planned outages, less frequently, compared to previous years while we complete necessary work on our assets.

We will conduct an environmental or native vegetation assessment as part of every applicable project and take action to minimise our impact and provide a cleaner environment for Victoria.
We will proactively share residential solar installations and capacity metrics to transparently demonstrate how we are enabling customer DERs and export growth.
We will develop and execute an Electric Vehicles (EV) strategy, working with our communities to trial new tariffs to see what charging mechanisms deliver the best long-term outcomes for customers.

What this means for you:

When we complete a project on our network, you can be confident that we have considered the environmental impacts and are committed to reducing the risk wherever we can.
You will be able to access information that demonstrates how we are investing in our business to enable solar growth across our network.
We will work collaboratively with you and your communities to ensure we are ready for rises in EV take up and have tested mechanisms and tariffs to ensure the best outcomes for you.

Empowering customer choices

We will onshore our customer service operations to our in-house, regional-based Australian 24/7 contact centre to provide fast and efficient customer experiences.
We will ensure all key campaigns and communications are accessible to culturally and linguistically-diverse (CALD) communities and will translate all communications to the top five languages other than English in our network region.
We will connect all customers wishing to install rooftop solar and ensure 85% of all solar customers can export excess energy into the grid 85% of the time.

What this means for you:

You will be able to call us at any time, any day of the week and speak to one of our highly trained service agents based here in Victoria.
You will be able to access our key campaigns and communications in the language that you are most comfortable with.
You will be able to reduce your environmental footprint by connecting rooftop solar for self consumption, and we will invest in our network so you can get more out of your investment in solar.

We will inspect 100% of our powerlines for vegetation encroachment through aerial services and targeted ground inspections each year, up from a 2 year cycle.
We will ensure 100% of asset inspection and maintenance activities in high bushfire risk areas are up to date prior to and throughout every declared bushfire season.

What this means for you:

We will further reduce the risk of fire and power outages affecting you through more regular inspections, taking action to remove encroaching vegetation where needed.
You can be confident that our poles and wires have been inspected prior to the declared bushfire season, and that the processes and procedures we have in place prioritise the safety of our network.