Energy market transformation
Not just poles and wires
As the owner and operator of an electricity distribution network, our role in supplying power to customers has evolved. While providing reliable, safe and affordable electricity supplies is still a priority, how we do it involves significant innovation in managing the increasingly complex and sophisticated system behind it.
Our role as a Distribution System Operator (DSO) expands on our traditional services and involves three main functions:
Enabling all forms of distributed energy resources to be connected and to export their excess power into our networks, while also encouraging a shift in when power is used to optimise renewables.
Facilitating participation in the electricity market by new trader services such as electricity aggregators. By signalling network conditions such as where there is capacity or constraint, we enable these third parties to trade and move electricity through our networks.
Maintaining system security and network stability in coordination with the Australian Energy Market Operator (AEMO).
To read more about the transformation of our business and how we're supporting our customers as they invest in solar, batteries, electric vehicles and other technologies read the document below.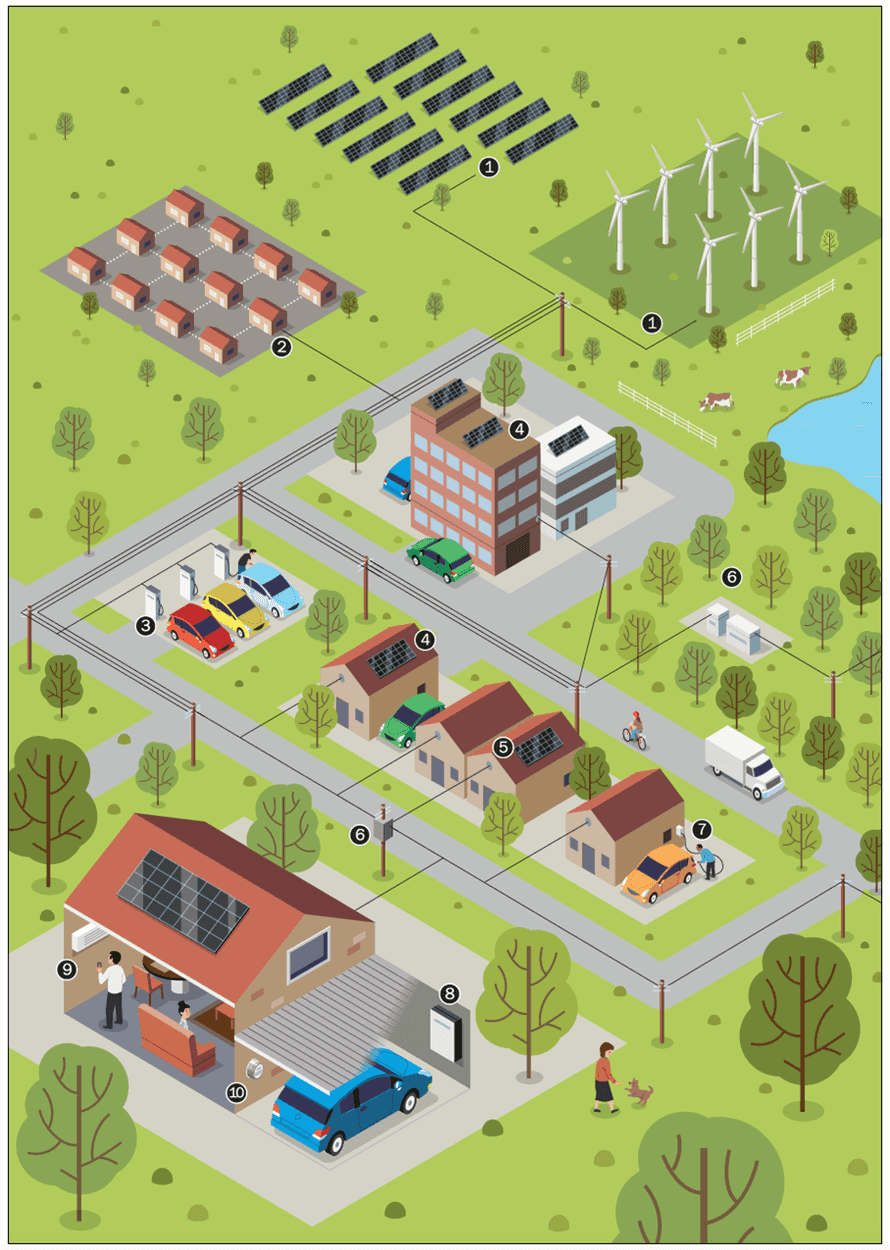 Top 10 ways to access a clean energy future
Large-scale renewable energy connections: We work with commercial and industrial customers to connect renewable projects, such as solar, that are over 1MW to our network. We also work with proponents planning stand-alone clean energy projects that are in excess of 18MW.
Stand-alone power systems/microgrid support: We expect more communities at the end of our network or in high bushfire risk areas will be interested in microgrids or similar projects which rely on community solar and batteries.
Electric vehicle public charging infrastructure: The rollout of public charging services across the state is being supported with connections to our network for reliable power.
Rooftop solar capacity: These popular systems allow homes, businesses and increasingly, apartment buildings, to generate and use their own renewable energy. We see more than 15% growth each year in the number of customers choosing to install power.
Rooftop solar exports: More than 90% of the households installing solar on their roof are able to export the excess energy into the grid for 85% of the time. From there it can be shared with neighbours or stored in a battery for when it is needed to meet demand.
Local battery storage: In the future, batteries will be common assets found on our network for energy storage. These could be ground-mounted community batteries supporting hundreds of customers or pole-top batteries servicing a couple of streets. They support reliability for these customers and help keep local solar in the community. We have installed two pole-top batteries and are rolling out a further 40 as part of trials.
Electric vehicles as generators: EVs are essentially batteries on wheels. In the future, there is a real opportunity for customers to utilise any power they don't use when driving to power their home. Technology is also developing to enable excess power from EVs to be exported into our network in the same way as a solar system. 'EV2G' stands for 'EV to Grid' and when the EV is charged by solar power, it is another way of sharing renewable energy through our network.
Household batteries as VPPs: Having a private battery is a way of storing excess solar from a rooftop system. It also opens an opportunity to participate in a Virtual Power Plant (VPP). Power exported by batteries into our network can be aggregated by a trader service and sold into the National Electricity Market.
Manage energy demand: Customers have an important role in helping us to maintain network security by managing their energy demand. This could be peak demand in summer when everyone is using air conditioning or minimum demand in the middle of the day when there is too much energy coming into our system for what is being used.
Optimise smart meters: More than 97% of our customers have advanced meter technology owned and managed by our networks. These make it easy to get accurate information about how much energy is being used in homes or properties. Our online services providing this information enable customers to make informed choices about new energy technologies, new electricity tariffs and energy efficiency opportunities.